USS COD HOME PORT
USS COD SS-224 World War II Fleet Submarine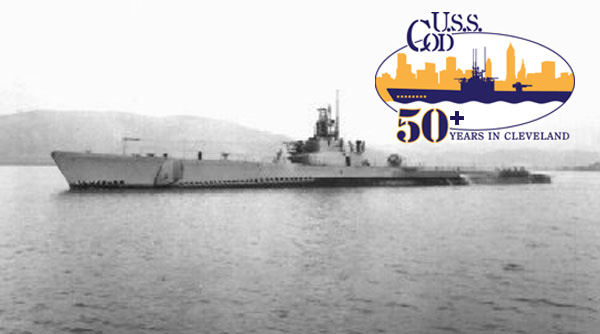 USS Cod off Mare Island following a refit in February, 1945.
The USS COD Submarine Memorial is a National Historic Landmark and is docked in Cleveland, Ohio.
USS COD Submarine Memorial is open to general public tours beginning on 01 May 2015. Group tours can be arranged, by contacting us at usscod@en.com You may also contact us here or call us at (216)-566-8770.
USS Cod Lake Erie Monsters Hockey photo booth link!
Thanks to all of the Lake Erie Monster hockey fans who stopped by the Cod's fun photo booth at the Feb. 28th home game to check out the Cod display and have their photos snapped with
the "real Lake Erie monster" -- USS Cod! For those who didn't have their smart phone cameras handy we took their photos with our "Cod Camera" (yes, it uses a 'FISHEYE lens' ).
Go to the link HERE to download your images! Go Monsters! And we hope to see you this season aboard USS Cod!

UPCOMING EVENTS for 2015:
May 01, 2015 >>> USS COD opens for the 2015 Season!
Saturday, July 11, 2015 at 2 p.m Join us for the 70th anniversary celebration of Cod's rescue of the crew of the Dutch Submarine O19.
Our reenactment of the world's only international sub-to-sub rescue will be our major event of the year and a wonderful way to honor the friendship between
America and the Netherlands!
Join us on Facebook!
---
The USS COD is now CLOSED for the season. We will be welcoming visitors from May 1, 2015 thru Sep 30, 2015.
COD's location is N. Marginal Rd., between E. 9th St., and Burke Lakefront Airport.

A Schematic Diagram of Cod's Torpedo Data Computer has been added to the TDC Restoration page. Click here to see what makes this mechanical marvel "tick".
QuickTime Virtual Reality Tour:
QuickTime VR 3-D images of most of Cod's spaces are now available on this site. Take this link to the QuickTime VR Tour.

If you you do not have the free QuickTime player it is available from Apple.
Other News

We recently acquired two GM Cleveland Model 248 engines that had originally been used aboard another WW-II submarine, USS Stingray SS-186. The two engines will be used for parts for the restoration of Cod's engines. These very large V-16, 1,600 HP diesel engines were originally built right here in Cleveland, Ohio -- the last in 1943. Each engine, with its attached DC electrical generator, weighs about 43,000 pounds (21,000 kG). Here is a photo showing one of these engines loaded aboard a transporter. click here

Cod's Mark IV Torpedo Data Computer has been restored to full operation. Click here to see a few photos of this amazing mechanical computer.
Dive Deeper: